Sunday, November 21, 2004
What Happened To Kim Jong Il?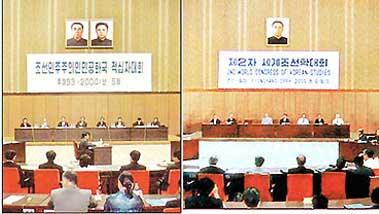 Image Shows Missing Kim Jong Il Photo
.
Kim Jong Il Disappears In North Korea
.
Portraits of North Korea's leader, Kim Jong Il, have been quietly taken down this fall in important institutions in the country's capital, Pyongyang, several diplomats there say.

Analysts are debating the reasons, with explanations that range from a demotion of North Korea's "Dear Leader" to a simple desire to place the portraits in more ornate frames.

...

according to reports from Pyongyang by the Itar-Tass news agency and an ambassador in the capital, guests at recent Foreign Ministry receptions have seen only portraits of Mr. Kim's father, Kim Il Sung

...

"Only a light rectangular spot on the yellow whitewashed wall and a nail have remained in the place where the second portrait used to be," the Itar-Tass correspondent said of the People's Palace of Culture.

...

There has been no official reaction from North Korea to the reports. But a North Korean diplomat in Moscow was quoted Tuesday by Itar-Tass as saying: "This is false information, lies. Can the sun be removed from the sky? It is not possible."

...

In Tokyo, analysts at Radiopress, a Japanese news agency that monitors the North Korean news media, were mystified.
Via
Roger L. Simon
and
Command Post
.
|